Your time is important, so we've made this process as simple as possible.
Log in to your online Swimtime Account
Select My Classes
Find the class you want to switch to Monthly

There are tabs showing Current and Upcoming classes

This takes you to the Switch to Monthly page - it shows you the benefits of switching to monthly, your complimentary welcome pack and a breakdown of costs.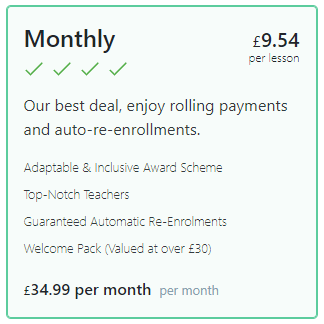 Confirm the delivery address for your complimentary Welcome Pack*
*some class types are not eligible for the Complimentary Welcome Pack
Scroll down to Payments Due Today and check out the details
You will see that "Credit" is applied as part of the switching process. As the cost of lessons is lower when you pay monthly, we credit your account with the remaining lessons of the course at the higher "Pay in Advance" price before charging for them at the lower "Pay Monthly" price.
Select the date each month you wish to make your monthly payment

Select which payment card you would like to use for this monthly plan

You can add another card if you wish, simply click

Carefully read the statement on our Terms & Conditions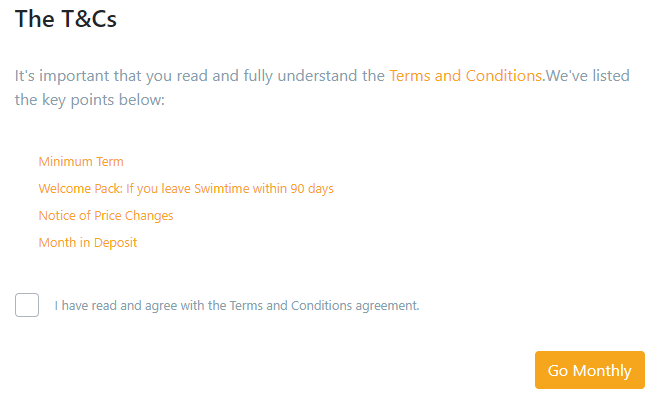 Here there are some
key facts
related to the T&Cs for the Monthly Plan. Click on each header to see more details.There is also a link to the full Swimtime Terms & Conditions for your perusal.
When you're ready, tick the box to agree to the Terms & Conditions
Don't worry, you still have 14 days to change your mind.
At this point your Initial payment will be paid from the card you selected and your monthly payments will be scheduled.
Please Note: If you have any credit on your account, including any credit applied as part of the switching process, this will NOT be used up by your initial payment. However, your subsequent monthly payments will be adjusted by the relevant amount until the credit is used up.