This article shows you how to find out the price of lessons. Please note prices vary depending on which pool you wish to swim.
From any page of the website, click Book Now
Mobile users may need to access the site Menu first
This will take you to the Lesson Finder map:

Enter your Post Code or Location
Select the Category of class you are looking for (for information see our Award Scheme page)
Select the Level of Class you require (for information see our Award Scheme page)
Select the Day you are free for lessons
Select the maximum Distance you are willing to travel
Press Search
Results shown on the map are the venues closest to you. The icons on the map represent:
Green = Venues with classes available
Black = Your position
Red = Venues that don't currently have classes available of the type chosen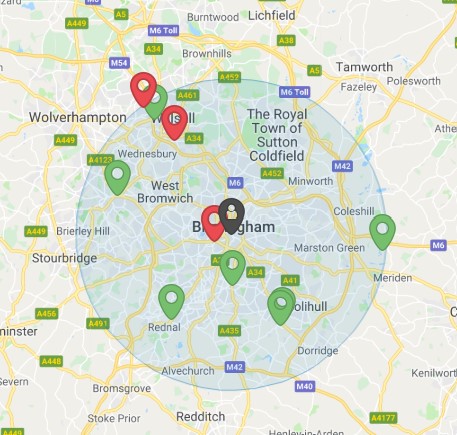 Click on the venue icons on the map or the venues in the list below/to the left of the map
This will open up a list of the Classes available at that venue including the PRICE which is shown as 'Cost Per Lesson'.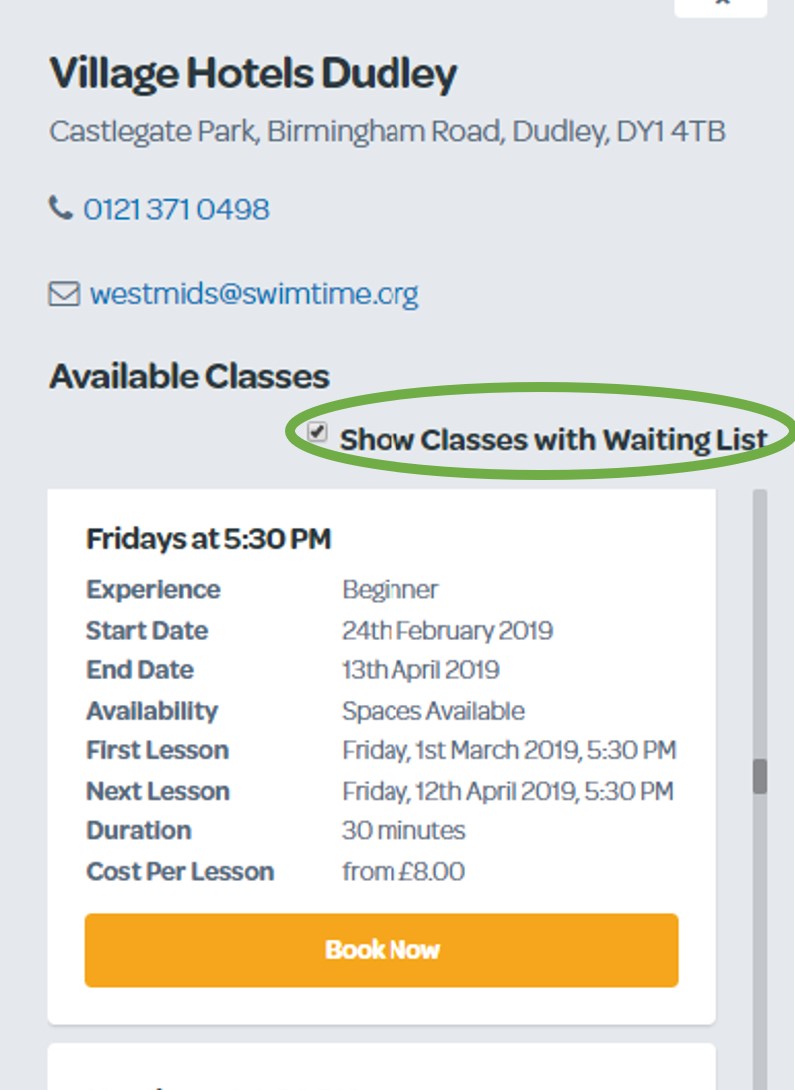 The information at the top is the address of the venue, plus the email address and phone number of your local Swimtime office
Results shown include classes that are currently full, but you are still able to book to the Waiting List. To filter these classes out un-tick "Show Classes with Waiting List"
Scroll through the list to find a suitable class
Click Book Now
This will take you to the booking checkout, but first:
If you haven't logged in, you will be taken to the login screen
If you don't have a login yet, scroll down the login screen and select Register
Picking a Start Date During The Current Course: At the moment this is not possible via website booking, so it initially appears that you have been charged for the whole term. However, when your local Swimtime office contacts you to discuss and confirm the booking they are able to select your start date and the charges are reduced respectively, so you only pay for lessons you will be attending.
Booking Checkout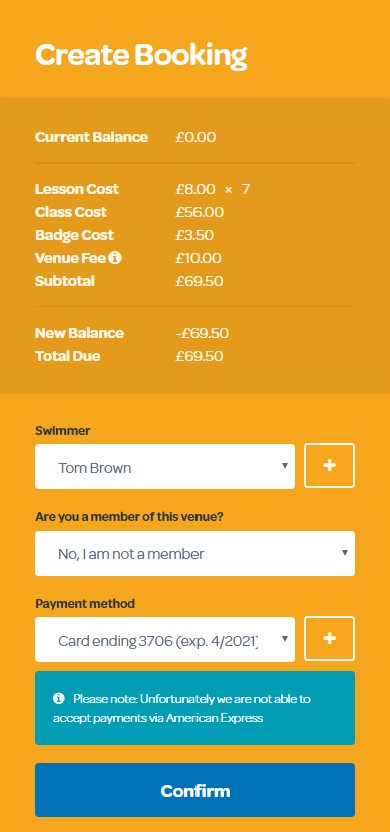 All fee information is present here:
Your Current Balance
The individual Lesson Cost
The total cost for the Class
Badge Cost (where applicable)
Venue Fee - This is charged for some venues if you are not a member of their leisure club
Sub-total
Your New Balance (Current Balance + Sub-Total)

If you wish to proceed to book a place continue as follows:
Select which of your Swimmers you want to add to the class. If you haven't registered that swimmer yet, press the "+" button
State whether you are a member of the chosen venue. If you are a member you will be asked to provide your member number. If you don't have it to hand please type "Don't Know".
Add the card you wish to pay with (or select it if you already have one saved).
Please Note: Your card is stored at this point, but safely and encrypted by our card services provider, Stripe. Swimtime does not store or have access to your full card details.
What Happens Now?
You will receive an email entitled "Swimtime - Your Provisional Booking"
Please Note: At this point you're booking for this class has NOT yet been confirmed and no payment has been taken from your card. Your local Swimtime office will be in touch to confirm some details with you before your place in the class can be confirmed. It is very important that we ensure that you have been placed in the right class, so please do not attend until your place has been confirmed.
When they receive your booking your local Swimtime office will be in touch. They need to do this to make sure that the swimmer has been placed in the correct class level/type for their ability. Once they have been in touch it is very simple for them to finalise the booking.